Setting up social media profiles on Twitter, Facebook or any other social network can be a lot of work. And if you're starting from scratch, it feels like a big impediment to overcome before using a new tool. We need to choose a photo or fill out a bio when all we want to do is start sharing content and engaging with friends.
Your social media profile is a window into your personality, your job, your interests—sure, but, if done correctly, it can be so much more than that. It can drive people to your website or other online assets; it can promote some of your best content; and it can lead to new clients and sales. When you reach out to a new contact or prospect, the first thing they're going to do is look you up online. Your profile needs to be both impressive and discoverable.
With so much potential value in each social media profile, it's worth investing the time and effort required to set them up properly. (Or, if you've neglected your's for an extended period of time, it can be just as important to give it a complete overhaul.) Here's our complete guide on how to update your social media profiles.
Jump to:
General Rules
Bio/Description
Why is your bio so important? In addition to sharing basic information about yourself, adding your website and email address turns any social network bio into a potential source of referral traffic. Especially on company pages, the opportunity to describe your products and link out to an external website makes bios a powerful marketing and sales tool. Plus, including your Twitter handle or Google+ page in the personal information section of another social network is a simple form of cross-promotion that could help grow your social following across the board.
Social media bios should always be catered to the social network and the audience of that particular profile. Your personal Facebook bio can be more fun and interesting than your LinkedIn bio, which should be very focused on professional skills and job history.
Though each profile bio will differ, your name or handle should be consistent across all networks. This allows people to find you more easily. If they see your Twitter handle, they can then enter that into Instagram and immediately find your personal or branded account. Online service know'em allows you to quickly check if a desired handle is available on almost every social network.
Finally, if you're curious about which of your social networks need work, there's any easy way to check: Google yourself.
Images
You should always strive to have photos fall within the dimensions recommended for a certain network. Why? A square is a square, right? Well, you never know when profile images will be reused elsewhere on a social network. Even though your giant headshot might look nice in the profile picture, it might look weird when appearing on a mobile device or in a home feed.
With profile images, simple is usually better. Don't try and fit tons of information about your business or product into a cover photo. The cover photo's job is to be eye-catching and reflect who you are, so focus on that. The profile picture should be of you, or of your logo, so people know who they're following or talking to.
Finally, image consistency across social networks will help people connect with and trust you. If someone follows you on Twitter and seeks you out on Instagram, using the same profile photo will increase your chances of them finding the right account, and following you. Much like with account names, consistent imagery results in better discoverability and more immediate trust. It's a very easy way to cross-promote your social accounts.
Bonus: Download a free cheat sheet to quickly find the best image sizes for every social network and learn how you can use Hootsuite to easily add them to any post.
Extras
Like the rest of your social media presence, your profiles should be regularly updated. Bios should be updated with the latest information or the latest content to ensure everything is accurate and fresh. Set yourself a reminder to check your profile information every couple of weeks, and don't ignore it.
In the same vein, regularly changing cover photos keeps your profile interesting to existing followers and gives you an opportunity to re-engage people who weren't impressed the first time. Meanwhile your static profile picture will help you maintain brand recognition and consistency across networks.

Facebook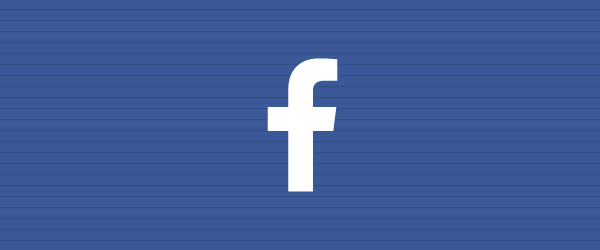 Your Facebook profile is one of the largest social media profiles on the web. Since Facebook is also the biggest social network on the planet, with 1.3 billion users, it's important that people are able to quickly find you and connect.
Bio
Both your personal information or company information will fall under the "About" tab on your Facebook profile or page. For personal profiles, the About tab contains an overview on which you can update the following fields:
Job
Education
Location
Contact information
Website
And relationship status
Each of these sections can be further expanded on in addition tabs within the About page. If you're using your Facebook profile for public or professional purposes, we recommend keeping the relationship status out of your bio. People want to know where you work and how to contact you. That being said, you can change the reach of each piece of information in your bio by editing the audience setting so certain information can only be viewed by friends.
For Company Pages your about section offers the opportunity to include the following information:
Location
Products
Founding date
Release date
And contact information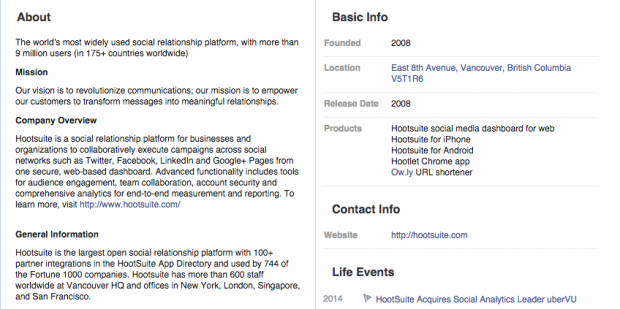 Take the time to fill out these sections with care, as customers and prospects will turn to them frequently. You also have the opportunity to write a lengthy "About" description of your company. Use this space to show visitors who you are, what you do and why they should care.
Follow Facebook's directions on how to update your bio info.
Images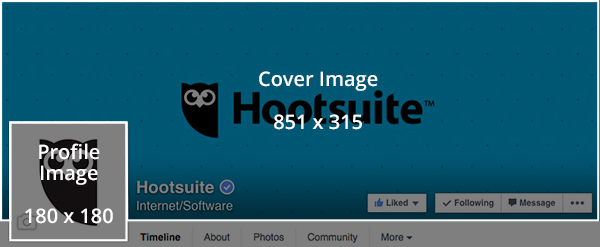 Facebook profile picture: 180×180 pixels
Facebook cover photo: 851×315 pixels 
Your Facebook profile picture is the square photo on the left side of your profile. It's the same photo that shows up on other people's walls or homepages when you post. For that reason, your profile picture should be a headshot. If you're creating a business page your profile image should be your logo. The image you choose for your profile picture should be square and should also be clear in small and large sizes.
Your Facebook cover photo is the large image that appears behind your profile picture. The larger size of this image offers opportunities for your to make an impression, sell your business or get creative.
Learn how to add or update your profile or cover photo here.
As Facebook image sizes will change with redesigns, you can stay up to date with their recommended image sizes here.
Extras
Facebook photos you've added or have been tagged in will also figure prominently on your profile. Make sure you keep a close eye on photos you're being tagged in so you can untag anything you don't want others seeing on your page. To avoid this process you can also turn on Timeline review, which allows you to approve tags before they appear on your profile. 
Interest categories, from sports to music, can also appear on your profile if you so choose. If you're using a profile for professional purposes, you may want to avoid these sections unless they are industry-relevant or they offer relevant insight to connections.

Twitter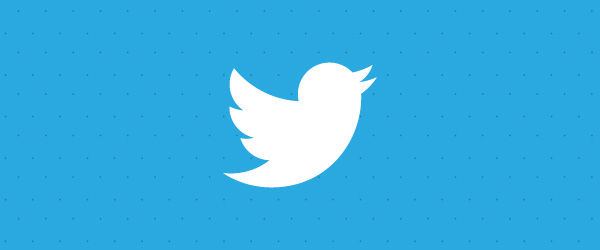 Whether it's a personal or branded account, Twitter profiles are exactly the same for everyone. This should be an advantage, since you don't need to learn different processes if you're building a profile for you or your business. That isn't to say these profiles don't require effort. Just like the network's approach to social media as a whole, Twitter profiles are a test in brevity. Have a look: 
Bio
Your Twitter bio is very minimal in comparison to networks like Facebook and LinkedIn. There are only five fields you can update:
name
bio
location
website
and theme color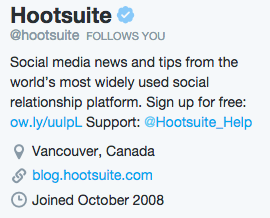 Each of these sections should be filled out but, with so little opportunity for customization, special attention should be paid to the bio field. In true Twitter fashion, your bio is limited to 160 characters, so you can't go into much detail. Instead, focus on sharing insight into what you'll be talking about on Twitter. This saves visitors the trouble of scrolling through your Tweets to see what they can expect from you. If you manage the Twitter account of a bank, you might want to state in your bio "Tweets about personal finance, insurance and investing." No gimmicks, but a strong incentive to follow for people who are after that information. 
To guide new followers effectively, your bio could cross-promote other relevant branded accounts as well. A bank might include in their bio,for example, "For cust serv, @bankhelp."
The bio writing process will be a test of your editing skills. If you're having trouble, ask yourself 'does this really need to be in here?' for each section and work to trim the fat. Take your time and do it right. And if you're stuck, look to the accounts of other industry leaders for inspiration.
Follow Twitter's steps to update your bio information here.
Images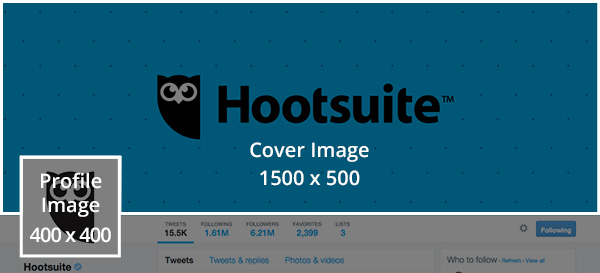 Twitter profile photo: 400×400 pixels
Twitter header image: 1,500×500 pixels
Your Twitter profile photo is the smaller, square image that appears on the top-left side your profile. Your photo should be clear and recognizable whether small or large, since the same photo you choose for your profile image will be used within other people's streams, and in Twitter's "Who to Follow" section on the right side of your feed.
Just like on Facebook, your Twitter header image is the much larger, rectangular photo that appears behind your profile photo and across the top of your profile page. This large photo is a great asset. It's the first thing most people will notice when they visit your profile, and should therefore serve the purpose of piquing their interest right from the get-go.
Learn how to add or update your Twitter profile or header image here
Twitter profile image sizes may change with a redesign, so stay up to date on recommended image sizes here. 
Extras

Earlier this year Twitter added the ability to pin a Tweet to your profile. This Tweet is one of the first things someone who lands on your profile will see. It's is also an amazing opportunity to promote your content to new contacts. Choose a Tweet that promotes a strong piece of content you or your brand has created, and includes an image or video. Discover how to pin a Tweet here.

Google+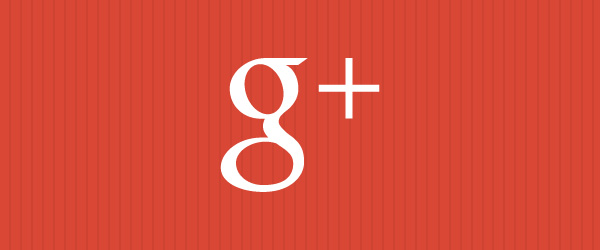 Many people are quick to brush off Google+, when in fact it has some of the most passionate social media users today. Add the fact that Google+ profiles have a role in Google search results of your name or brand, and you shouldn't need any more reason to work hard on your Google+ presence.
Bio
Google+ offers several choices to customize what information appears in your profile bio. Make sure you go through every part to see what you want made public and what is better off private. 
The bio section of your Google+ profile can really be split into two parts. First, there is a small section under your profile picture containing some info about you. On personal profiles your work, school and location will appear in that position, while on business pages your website will appear there. While you may not want your school or workplace to appear on your profile, you should always have your website in that position if you run a business page. Users are drawn to your profile picture, so having your website right there is a great way to point followers back to your other online properties. 
Second, every profile has an About tab containing much more information about you or your brand. This tab can contain simple details like your job and education history as well as contact information. However, there are 3 sections worth focusing your attention on: 
People: This section shows how many people you've circled, and how many people have you in circles. People are more likely to follow you if they know you will probably follow them back. They're also more likely to follow you if they see that lots of others do, since it adds credibility. As a result, you may want to keep this information private until these numbers are impressive to profile viewers.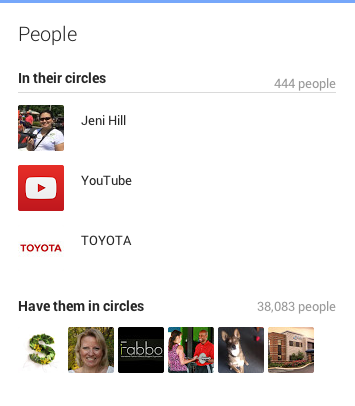 Links: Google+ has done us a favour by including cross-promotional opportunities from the get-go. Use this section to point to other social network profiles, all of your websites as well as blogs you've contributed to. The value of this section can't be understated.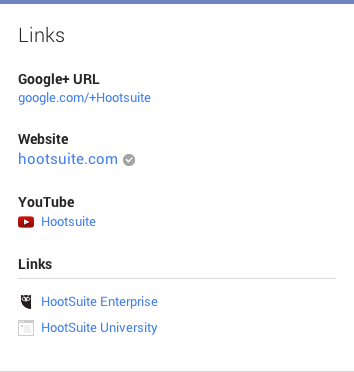 Story: This section is where you have lots of flexibility to get creative. It is comprised of three different categories. Tagline is where you should offer people a quick sell of yourself. Who you are, what you do and why they should follow. Make sure it includes keywords you want associated with you in search. Introduction is where you can delve into a little more detail. If you've lured them in with your tagline, this section will be the next information they're after. The Introduction could also include a call to action, like "Add us to your circles today!" The third section of your story is "bragging rights." This is a section for awards and accomplishments. If you don't have anything relevant, don't force it.
Follow Google's instructions on how to edit your Google+ profile bio here. 
Images

Google+ profile picture: 120×120 pixels minimum
Google+ cover photo: 1080×608 pixels
Your Google+ profile picture, unlike Facebook and Twitter, will appear as a circle rather than a square. That being said, you still upload that picture as a square; you just need to be aware of what will be cut off when Google crops that photo.
The Google+ cover photo is the large rectangular image that sits to the right of your profile picture. One opportunity unique to Google+ profiles is the ability to make your cover photo a gif rather than a static image. Hootsuite's cover photo on Google+ is currently a gif that we use to showcase our brand, product and one of our best pieces of content. The purpose of a cover photo is to capture a visitor's interest, and a gif is a very appropriate and effective means of doing that. If a gif fits with your branding, you may want to get creative and take advantage of this feature.
Learn how to add or update your profile or cover photos, and stay up to date on Google+ recommended profile image sizes here.
Extras
Google+ also offers a variety of options to customize what information publically appears on your profile. You get to chose if photos, YouTube or other videos, +1s and reviews by you can be seen by profile visitors. When it comes to photos and videos you've produced, you likely want your audience to see them. They show off your content marketing efforts and offer a bigger picture of who you are and what you do. Public +1s and reviews may not be the best fit for professional profiles however. Consider each field carefully before deciding which to make public. 
LinkedIn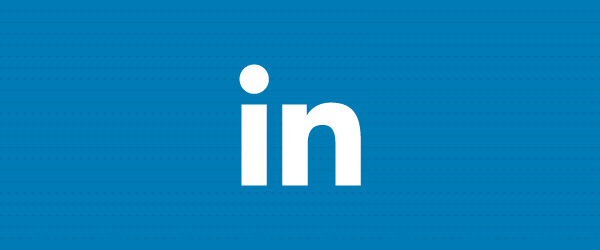 LinkedIn's personal and business pages are so different that each one needs its own section. We've broken them down separately below.

LinkedIn Personal Profile
Bio 
On LinkedIn, your bio is at the core of effectively using the social network. LinkedIn is a professional social network where you list your experience and expertise in order to attract potential employers, clients or connections. Being that your profile is so essential for this purpose, LinkedIn has made their profiles very substantive. In fact, there are no fewer than 21 sections to your LinkedIn profile. While almost all of these should be filled out, we've ranked them roughly in their order of importance and added a line about each one:
Name – First and last
Headline – Will default to your current job title, but you can customize for more punch and to include key terms for search
Summary – LinkedIn describes it as info "about your mission, accomplishments, and goals."
Contact Info – Email, phone, IM, address, Twitter handle and websites.
Experience – Professional positions and experience, both jobs and volunteer work.
Recommendations – Professional recommendations displayed on your profile are a major asset while on the job hunt.
Skills & Endorsements – The skills you list should represent your real strengths, since your contacts will ideally be endorsing you for them. Spend time to make this section very representative of you and your abilities.
Industry – Choose from their drop-down menu
Location – Important to let people know where you work
Education – Where you went to school and what you studied
Certifications – Do you have a specific certification that would benefit your job?
Publications – Specifically relevant for marketers, writers and researchers
Projects – Have you worked on a noteworthy project that would impress connections or employers?
Languages – Being bilingual or trilingual can be a major career asset. Share your language skills.
Volunteer Experience & Causes – Organizations you support, causes you care about, and the types of volunteer opportunities you're looking for.
Additional Information – If it isn't professional, keep it out of this section. Your marital status isn't particularly relevant on LinkedIn.
Honors & Awards – Keep these to large, noteworthy awards. Not your 'most improved softball player' trophy.
Organizations – Be careful of noting political organizations. They could influence hiring.
Courses – Only fill this out if your school courses are very relevant to your desired field.
Patents – Not very relevant for most of us, but a select few can benefit from this section
Test Scores – Generally, skip this. Unless you got a perfect score on the bar exam.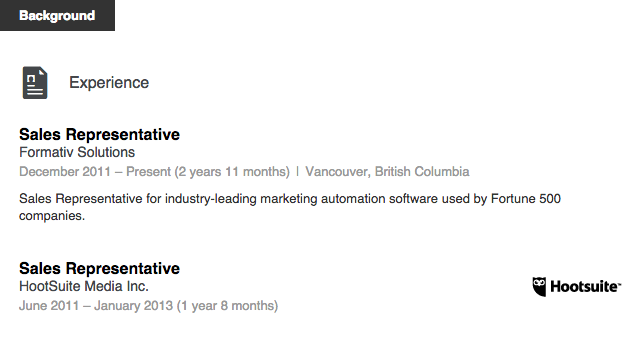 As a general rule, your LinkedIn profile should be strictly professional. Avoid the humorous or quirky in favor of the straightforward. LinkedIn also favors profiles that are 100% complete, so put in the effort to check off all the boxes in the creation of your profile.
Follow LinkedIn's instructions on how to update any of your profile sections here.
Gain insight on how to be found on LinkedIn.
Images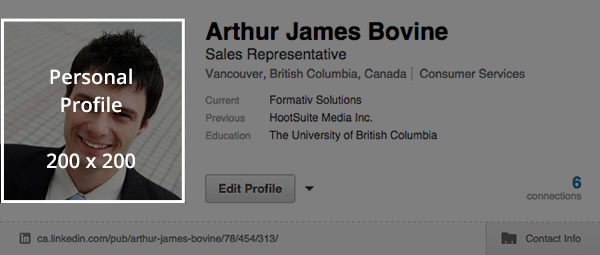 LinkedIn profile photo: 200×200 pixels minimum
LinkedIn custom background: 1400×425
LinkedIn profile photos should be square headshots. This is a standard that exists for a reason. You can also choose a custom background photo for your profile. Since it is LinkedIn, we recommend choosing a photo with some professional context, or something that speaks to your career.
Extras 
Last year LinkedIn made its publishing platform open to all users, a move that turned the social network into a veritable blogging platform. When you publish a post on LinkedIn, it will appear high up on your profile. This important real estate is a major incentive to start writing posts for your LinkedIn audience. It's an easy way to extend your reach and impress profile visitors. Think of it like your own mini thought leadership program.

LinkedIn Company Page
Bio
LinkedIn Company Pages require a much smaller set of information than LinkedIn profiles.
Company name
Company size
Type
Website
Main industry
Operating status
Year founded
And location
These fields are all either self-explanatory or are chosen from a dropdown menu. This leaves only three sections that require effort to fill out.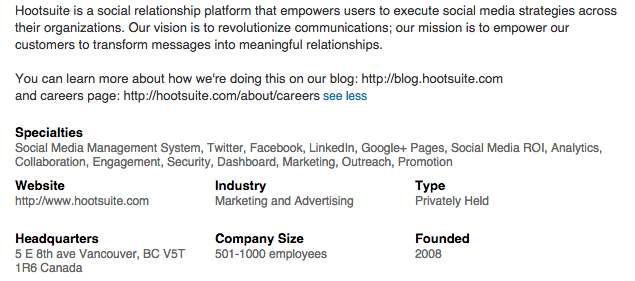 First, your company description should describe who you are and what you do, and appeal to both prospects and prospective hires. Include links to your website and careers page in this section. 
Next is your company specialties. In this section list key terms that someone who uses your product or service might search for. There are several slots open, so you can get very specific with these specialties. 
Finally, there is a featured groups section which is meant for LinkedIn groups that you participate actively in or are an administrator for. LinkedIn groups are a great way to make connections on the social network, so we recommend actively participating in them. If you see a void on a particular topic, starting a group is a great way for your company to be perceived as an authority or leader on that subject.
Follow LinkedIn's instructions on how to edit your LinkedIn Company Page. 
Images
Your LinkedIn Business Page has three main images you should take time to optimize.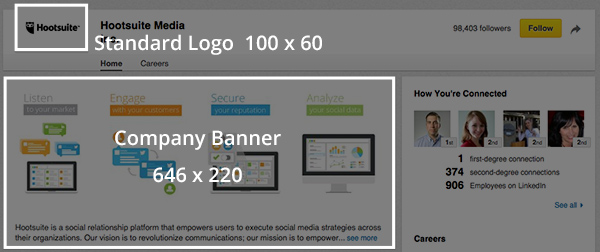 LinkedIn standard logo: 100×60 pixels
LinkedIn banner image: 646×220
LinkedIn square logo: 50×50 
The first is your standard logo, the small icon that appears in a box on the top right of your page. This image will be reused in LinkedIn's "Companies You Want to Follow" section, which is a great reason to make this image stand out. Make it clear and appealing, since it will be the first impression many LinkedIn users have of your brand. 
Next is your banner image. This appears on your business page under your logo and is the LinkedIn equivalent of a cover image. It's a bigger, landscape image and should be used to capture people's attention, while telling your company's story.
Finally, your business page will need a square logo. It will be used when you post updates and when users search for you, so make it clickable.
Extras
LinkedIn is now an incredibly important part of hiring for many businesses. With that in mind, the social network offers an opportunity to highlight career opportunities on a separate tab within your Company Page. While not immediately visible, this tab would appear on your profile and is worth completing. 

Instagram
Bio
Instagram is likely the simplest social network you will deal with when it comes to your bio. Aside from your username and real name, the only information that appears on your public profile is your website and a short (maximum 150 characters) bio. For your bio, since you're limited in terms of length, keep things straightforward, but not serious. Say who you are and what you will be sharing photos of, but don't make it dry.

For business accounts, always include any branded hashtags you use. This allows people to browse the hashtag and see what kind of content you produce and promote before they follow you. 
Follow Instagram's instructions on how to edit your Instagram bio.
Images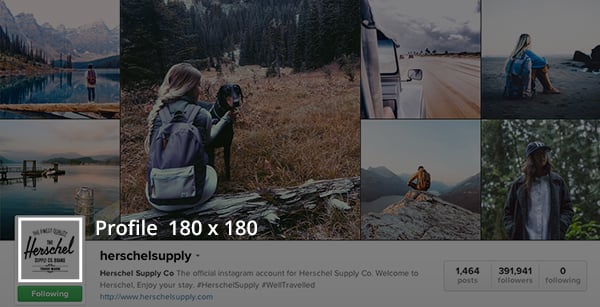 Instagram profile picture: 180×180 
Instagram is unique in the sense that you'll likely be setting up your profile on mobile first, with only secondary considerations about the web version. Most people use Instagram on mobile, but you can't ignore the fact that some people will view your profile on their desktop browser. As a result, with Instagram it's always a good idea to use higher resolution images with greater resolution than required for mobile. 
Your Instagram profile picture will be cropped into a circle on the app, so make sure you choose an image that will look good in that shape. Though the profile picture will be 110 pixels in diameter on the mobile app, it is recommended that you choose a larger square image since it will appear larger on the web.
Learn how to change your Instagram profile photo.
Extras 
It's worth noting that your Instagram profile will showcase your latest Instagram photos. As a result, every photo you take will potentially take a prominent place on your profile and be the first thing a visitor sees. This is a big reason to take time and share only the best photos, especially if the profile is a professional or branded one. You may be tempted to share a mediocre or low-quality photo because it was taken in a specific context, or features people you want to recognize. However, visitors to your profile won't understand the context. All they'll see is a bad photo, and they almost surely won't follow you.
Consider sticking to a certain style of image, keeping to a specific set of filters or one style of cropping. Doing so will give your Instagram feed a specific brand, making it more recognizable to followers and more consistent to new profile visitors.
Save time managing your social media presence using Hootsuite. Try it free today.